Wikiglobal Ready to Take on Africas Biggest Market with Android Dual SIM Devices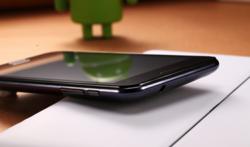 HOUSTON, TX (PRWEB) October 03, 2012
According to the company spokesperson, Lisa Shantzer, they have been in talks with GUGGA Communications Ltd and Adony Enterprises about a possible partnership. "As long as they are a good fit with our mission, we don't have any problem allowing either of them carry our flag in that region" she said.
Coasting on the success of its recently launched WIKI Droid i90 Android dual SIM phone which will also be available at Target stores all over the United States in the second quarter of 2013, the company believes this is the right time to make an entry into Sub Saharan Africa before the Christmas season.
The WIKI Droid i90's 5"AMOLED screen is a hybrid between a regular 3.5" smart phone and 7" tablet beating most smart phones in this category, and it's especially suitable for reading anything from books off your Kindle App to flipping through your KJV. Bible App. It is powered by Android Ice Cream Sandwich with a Dual core 1GHz processor and up to 72hrs dual standby battery. Its slim design is impressive to look at in black or white color and it feels just right in the palm of your hand.
The dual SIM connection allows for seamless multi-SIM usage from any wireless provider in the same device and 3G band connectivity worldwide for the new age global citizen.
Wikiglobal will be introducing free Roaming SIM cards to their customers soon.

The Wikiglobal online shopping experience is user friendly and their shipping is still free worldwide. Users get the same quality they've to come to expect from Wikiglobal.
About Wikiglobal
Wikiglobal is a Friendschip, Inc. company and is the leading provider of dual SIM phones and has consistently provided excellent products and services to its consumers over the years. It specializes in dual SIM phones that run on Android and the WIKI Droids are uniquely designed for that purpose. With partner programs, affiliates and brand agreements, Wikiglobal is aiming to expand its consumer base and provide its superior quality products world over. With a dedicated team of professionals that blend technology with creativity, WIKI is the new synonym for dual SIM.
Find More Nigerian Phone Press Releases